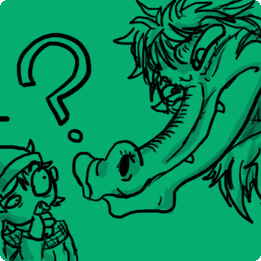 Barrel the Dragon, aka Apocalyptor, is the pet of King Jeffrey . A massive, shape-changing dragon, Barrel lives atop the king's tower in Castle __________ .
Captured somewhere in the Imperium and brought by force to Castle __________, Barrel lived despondently atop the king's tower for several weeks before meeting Dragomir. The guard was initially terrified of the dragon, though Barrel soon revealed his chipper nature and warmed up to Dragomir. The pair have been pals ever since, and Barrel has saved Dragomir from danger on multiple occasions.
Barrel can transform into seemingly any shape he desires, though most of the time he appears as a cat-sized version of himself. He takes advantage of this ability, and King Jeffrey's recent apathy towards his pet, to sneak out of the king's tower and play with Dragomir.
He seems to have a connection with the rats , though the particulars of that relationship remain a mystery.